Let the team at Newton Roof Cleaning restore life back into your roof with confidence.
Why Choose Newton Roof Cleaning Services?
We strive to exceed the expectations of our customers.
We offer a friendly and hassle free service.
At Newton Roof Cleaning there is no roof surface that we cannot get sparkling clean, no matter how severe the build up of moss, algae, mould etc (We stand by that).
As the job commences you will receive before, during and after photos to your mobile phone. You check progress and see the magic unfolding before you.
Newton Roof Cleaning Soft Wash Method
Recommended for all roof types especially tile, terracotta and concrete plus external house washing, paths, driveways, tennis courts, boat ramps and timber flooring.
Soft wash is the gentle wash used for roof and property cleaning. It uses a chemical mix to remove all mould, age stains, moss and fungal elements that have build up over time.
The Soft Wash mixture is a mixture of Sodium Hypochlorite, Bio-Cleaners and added Surfactant Soaps which is applied over the surface and left for 15-20 minutes (depending on weather conditions) to sink in and degrade foreign materials. The roof is then thoroughly rinsed off at a very low pressure between 50-100 psi. We do not apply any high pressure to these surfaces whatsoever.
*Never high pressure blast a tiled roof, it will cause damage to the tiles as well as make them porous.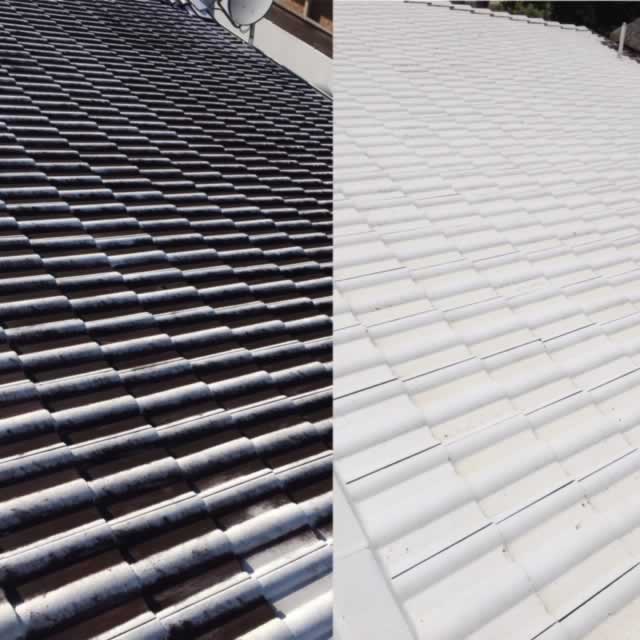 Please note: Before work commences all properties with external water tanks (whether they are for drinking or irrigation purposes only) will have these either blocked off or we re-direct the waste water using our pipe connections, we take special care while carrying this out. Storm water entry points are blocked off and our pumps are put into place to re-direct waste water.
We do not contaminate water tanks or our waterways.
Roof Inspections
We inspect your roof before cleaning commences. This will let us know if there are any leaks, missing screws, chipped or broken tiles as well as the condition of pointing along the ridge caps (tiled or terracotta roofs only). 
My roof was 20 years old and in need of a face lift. Stephen and Shane from Newtons Roofing Restoration transformed my roof into a stunning new and modern look. Thanks for doing an amazing job. I'd highly recommend them to anyone who wants to restore their roof.
Thank you for providing a friendly and professional service. Our roof and paving looks great. Our solar panels got a clean as well. Great value! I will be recommending you to family and friends. Natasha K at Coomera, April 2020
Beyond happy with the work that was completed on my roof. A 25 year old tiled roof looks completely new! Would highly recommend 👍🏼